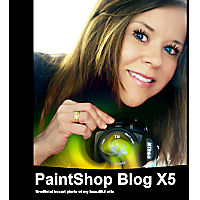 Recently, I was researching new features and release dates for Corel Paintshop Pro X5 when I stumbled on a preorder listing at nuLime.com. According to their website it is estimated that X5 will be available for shipping on September 6, 2012. BTW, the X5 boxart is obviously not official. It was something that I created specifically for this post. I like it though because it features my beautiful wife 🙂
This is the only website that I could find currently accepting preorders for X5. I can't confirm the validity of the listing at nuLime, but I found their site does have a 7.5 out 10 rating at resellerratings with 100's of positive reviews.
When I originally started writing the draft for this post there was only one listing for X5 preorders. Over the past couple weeks I am beginning to see many more online retail stores now accepting preorders for Paint
Shop Pro X5.  If you search for "PSPX5ULENMBAM" or "Corel PAINTSHOP PRO X5 ULTIMATE EN MB" you will find several  preorder listings. At the bottom of this post, I have posted a couple screen caps of X5 pricing and listings.
Anyway, I always get excited when there is a new Paint Shop Pro release on the horizon. PSPX4 was a major improvement over PSPX3, especially the installation times and overall performance. Further, adding 16bit tools to X4 was certainly a welcomed addition. I absolutely hated everything about PSPX3. That release alone almost resulted in me completely giving up on PSP as my primary graphics editor. X3 received a lot of negative press across the internet.  I even made a plea (along with countless other PSP) for Corel to restructure the direction of Paintshop Pro. I think they heard us because as I mentioned,  X4 saw many improvements over X3.
But without question, Corel Paint Shop Pro X2 Ultimate is the best edition of the software series to date, in my opinion. It is not bloated nor buggy, the editor is feature rich, and everything just works flawless for me. I have been using X2 since I think 2007. I occasionally will use X4 but still prefer X2. Hopefully, X5 will see even more performance and features improvements and give me enough reasons to switch from X2. As soon as Corel releases an official feature list for Paintshop Pro X5 I will post an update.
Is anyone else looking forward to or plan on upgrading to the Paintshop Pro X5 release?
PSP preorder Screen Caps
Here is a Corel Paintshop Pro X5 preorder listing for $101.75 at nulime.com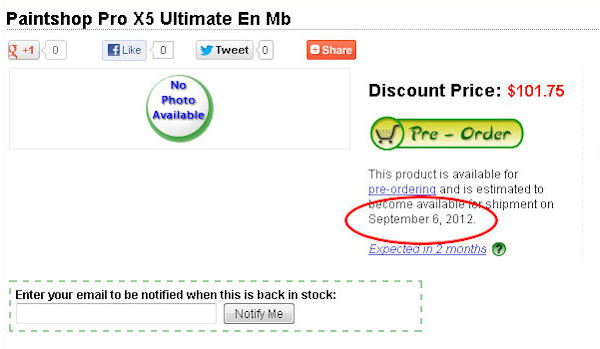 Here is another Corel Paintshop Pro X5 listing for $94.99 at macmall.com