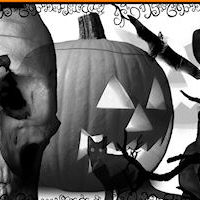 Here is a nice set of Halloween Brushes for Paint Shop Pro that you can use with all your Halloween themed projects this fall. The original brushes were designed by
Anadyne. I just converted them to be compatible with Paint Shop Pro. This brush pack contains 14 different brushes such as, skulls,black cats, bats, spider webs, vines, etc.
If you are looking or the Photoshop version of these Halloween Brushes then visit this deviantart link. Otherwise, the Paint Shop Pro Download link is available at the bottom of this page. These brushes are for non-commercial use. For use in commercial projects you will need to contact the artist Anadyne.
Just a quick test of the brushes on a white background in Paint Shop Pro.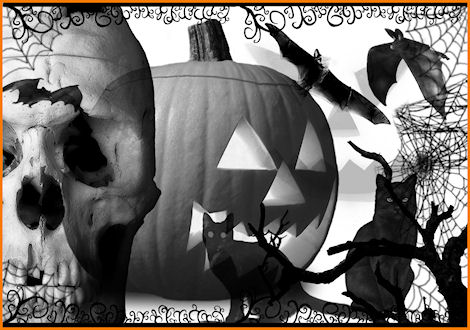 Download Brushes
Download Paint Shop Pro Halloween Brushes Here
Size: 1.2mb
Installation
Download the zip file to your Brush Directory and unzip. Then restart Paint Shop Pro, and enjoy your new brushes. If you are still confused, and need more help installing brushes then you can refer to this previous How to install brushes in Paint Shop Pro tutorial.