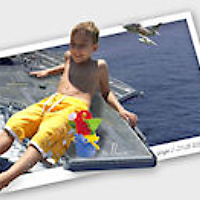 Here is a fun little project that you can do with some of your family photos. The kids love them, at least mine do!
This quick video tutorial will teach you how to create a panoramic/Polaroid 3d style photo using Corel Paintshop Pro. For this demonstration I used a beautiful photo of my son. Note: If the text overlays are too fast try pausing the Youtube video tutorial as you complete the steps. In the future, I will start including both videos and printable tutorials.
Below I have included two samples, each of my two sons. My youngest son is sunbathing in the Sahara desert, the oldest on sunbathing on a battleship. I told you this would be fun.