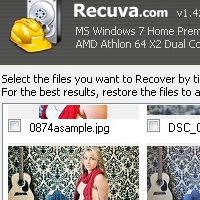 Have you ever accidentally deleted a photo or file without a backup copy? This is exactly what happened to me a couple nights ago. My wife runs a part-time photography business, plus she is always capturing memories of our two beautiful boys and our family, which results in a lot photos/videos that need to be backed up.
While doing a routine backup, I cut and pasted a folder with a batch of approximately 4,000 photos. The folder also contained approximately 50 HD videos, along with several pspimages, psds, and NEF RAW files. During the merge process to the backup drive I received an error message. At first I didn't think much of it, I figured I would just hit Ctrl-Z to undo, and then repeat the process.  For some reason, the undo didn't work this time and windows had already cut the entire folder after only pasting a few files to the backup drive before it errored out. Windows also didn't send a copy of the folder to the recycle bin (probably too large for the recycle bin).  I am not blaming Windows here either, this mistake was more than likely a user error on my part.
Regardless the damage was done and I was panicking. I knew if lost my wife's work and memories she would kill me (not literally), but she would have been upset and put me on the couch if I botched something as simple as a backup. Without hesitation I immediately started researching file recovery programs. At first, I was pessimistic about successfully recovering any of these files because I never had much luck with file recovery programs in the past, especially the free ones.
While reading through reviews of the best free file recovery programs I came across Recuva, a free utility from Piriform (the makers of CCleaner) that is also spyware free. I have used CCleaner for years to help keep my computers clean and "running like a top."  Admittedly, I started feeling really optimistic after I discovered it was developed by Piriform and after reading through nothing but positive reviews. BTW, I highly recommend CCleaner if you haven't tried it either.
Anyway, I quickly discovered Recuva is a extraordinary piece of software that could literally be a job-saver or marriage-saver 😉 It successfully recovered every one of the 4000+ files that I deleted with ease in less than 10 minutes.  Out of curiosity, I went ahead and run a few extra tests. I recovered countless purposely deleted files with a 100 percent success rate. Recuva also easily recovered files deleted from the recycled bin too. I was even able to delete and recover files deleted directly from our digital camera cards. I tested SD cards and USB sticks. It even recovered deleted mp3's deleted from my Ipod running rockbox firmware. The developers claim it will recover files deleted by viruses and computer crashes too. I also liked how it allowed me to save the restored files to a mapped network drive. While not necessary, it is important to write as little as possible to a drive that has files on it that you need to recover. For this reason, I chose to restore my files to a networked drive. If you don't have a mapped networked drive you can restore to external usb drives, sd cards, etc. You can restore to the same hard drive the files were deleted from, but you run the risk of overwriting the already deleted files.
While this software is not directly related to Paint Shop Pro, it is still impressive and relative to photography. I felt I needed to share this because someone out there may be in a similar mishap. Possibly, someone accidentally deleted their pspimage projects or deleted their babies photos and desperately need to recover them? Whatever it is you deleted, this program can help you recover it at a high success rate (100%  success rate for me so far). Below I will walk you through the installation and the recovery process.
Step 1
Click this link below to download Recuva. The program is compatible with any PC  running Microsoft Windows 98 or higher. http://www.piriform.com/recuva/download. Once downloaded go ahead and install it.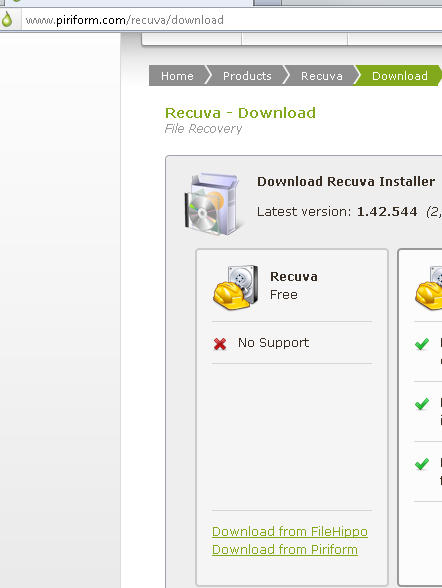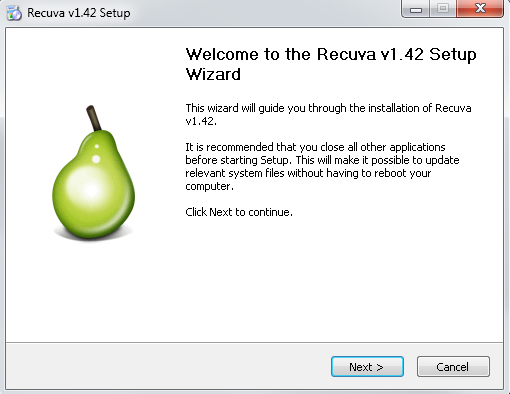 Step 2
Once installed, right click "Run the program as Administrator" if you are using Windows 7 for Vista. You will be presented the Recuva Wizard.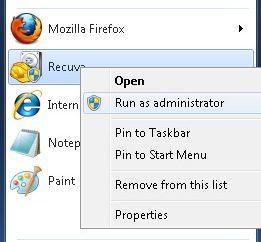 Step 3
Select the file type, the drive, or the specific folder you want to recover. I recommend scanning the whole drive drive and then previewing the deleted files. Note: To recover pspimage or a RAW extension you may need to select the other file types. I had to use this option to recover the NEF, PSPIMAGE, and PSD extensions. The recover pictures option only recovered common photo extensions such as JPEG and BMP. Don't worry, you can repeat the process as many times as you need for different file types.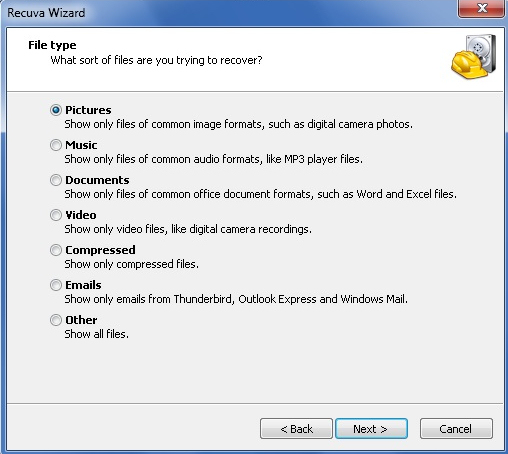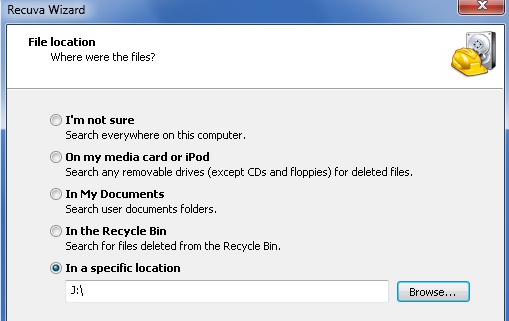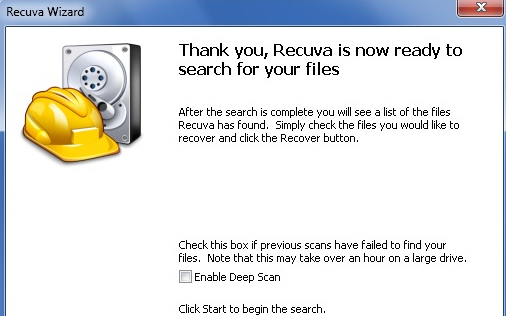 Step 4
I didn't enable deep scan as it wasn't necessary. Recuva found all the deleted files without any errors or problems.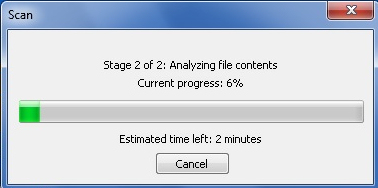 Step 5
Once the scan completes select the photos you want to recover. You can preview the deleted files and select them individually or you can select every one of the deleted files at once. To select all the deleted files hit CTRL+A to select all the files at once and check mark one of the photos, or you can switch to advanced mode which has a toggle to select every file.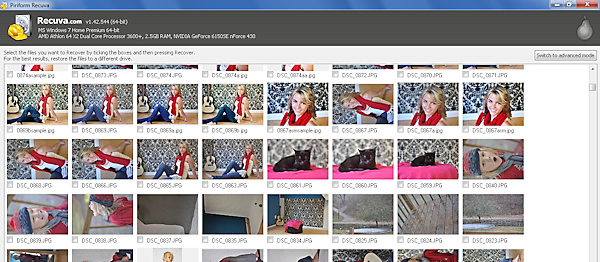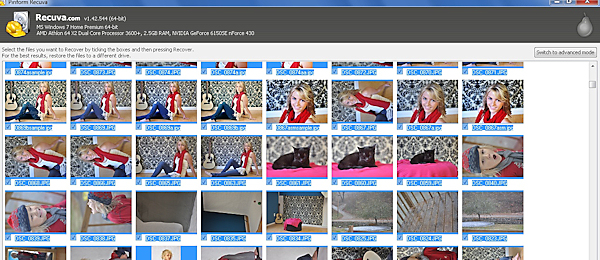 Step 6
After you select your files for recovery, press the recover button. Recuva will ask you where you want to save your recovered files. As I mentioned previously, I selected a mapped network drive. I recommend using an external drive, a different partition,  or a networked drive to prevent the deleted file area of the hard drive from being overwritten in the restore process. This is not necessary, but Recuva will warn you that restoring to the same drive may interfere with successful recovery.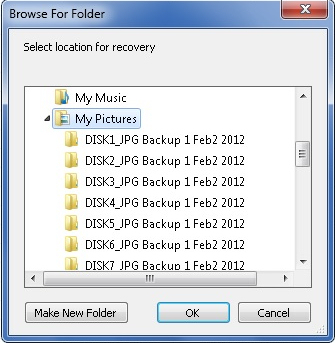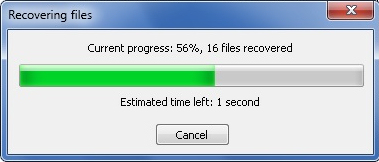 Step 7
Success, Recuva successfully recovered 4,000 of my deleted file types without error.
Happy Recovering!