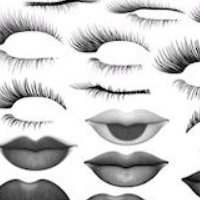 The Lips and Eyelashes download link available here at Paintshopblog. They have been compressed into a zip file for your convenience.
I found a beautiful set of free Lips and Lashes brushes over at Devianart for Photoshop. However, the abr (Adobe brush file) was incompatible with all versions of Corel Paint Shop Pro. However, my wife owns a copy of Adobe Photoshop CS3 and I was able open them up in Photoshop and then export the brush set to a psd file. Furthermore, this then allowed me to open up the brush set in Paint Shop Pro and convert them to pspbrushes.
I have compressed them all into a zip file for your convenience that you can download here.

Get Lips and Eyelash Brushes for PSP
To install these brushes:
1. Download and Unzip the file.
2. Browse to My Documents > My PSP Files > Brushes
3. Paste the files and/or the folder containing all the files in the brush directory.
4. Restart Paint Shop Pro.
NOTE: Alternatively, you can import them through Paint Shop Pro by going to File > Import > Custom Brush
Enjoy your new Brushes.
UPDATE: If you are having trouble unzipping the files and installing these brushes I have posted an in-depth How to unzip and install brushes tutorial for you to follow. Click here to view the tutorial.